The COVID-19 pandemic has created a seismic shift not only in the way that business is conducted, but also in how organizations are run. As companies and their employees strive to maintain their health and safety in the face of the outbreak, many companies have embraced working from home, greatly accelerating a trend that has emerged since the start of the new millennium. While the increased prevalence of working from home will have beneficial or limited impacts for some industries, others will struggle to navigate through a world that is changing rapidly, straining business models and requiring companies to adapt faster than ever before. Below, we take a brief look at how various industries may be impacted by the accelerating adoption of work-from-home arrangements.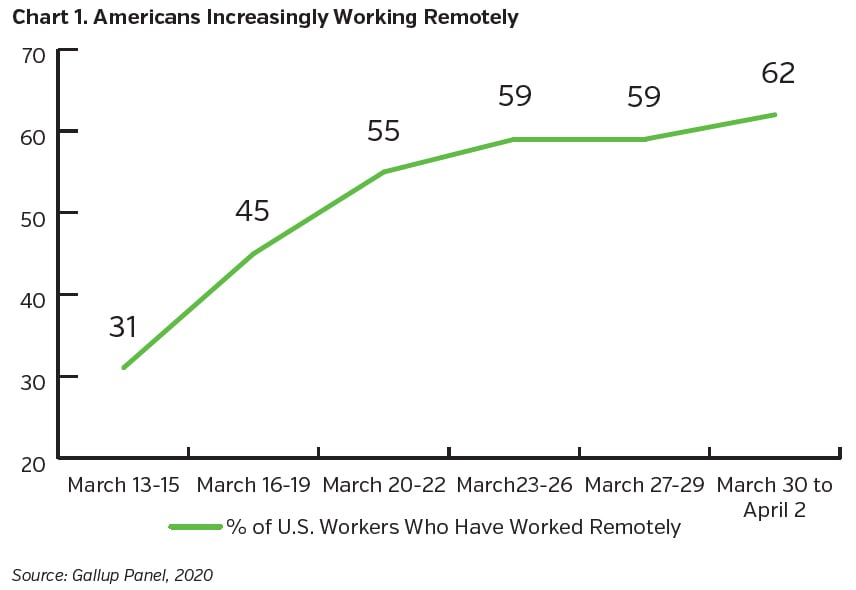 Automobiles
Given the level of uncertainty surrounding the path that the coronavirus epidemic will take, the effect on the automotive industry could fall along a wide spectrum of outcomes. While it is extremely difficult to predict the magnitude of the change, the demand for automobiles could decline as employees spend more time working from home. The thinking here is simple. As people spend less time commuting to work, the useful life of vehicles will rise, lowering the need not only for new and used cars but also for replacement parts. This will likely impact not only the automotive manufacturers but also the industrial suppliers that provide anything from semiconductors and sensors, to tires and paint. On the other hand, that decline could be partially offset by people buying vehicles in lieu of using public transportation, either for reliability or safety reasons. With these potential outcomes in mind, we recommend that insurance company investors limit credit risk in the near-term and pay close attention to the changing environment, being cognizant not only of changes in consumer demand which could affect OEM manufacturers but to industrial manufacturers and technology companies with significant automotive end market exposure as well.
Communications
With the world consuming more and more data, the demand for high speed internet has grown significantly as consumers require faster broadband speeds to improve their online experience, particularly as online video has become a greater percentage of online usage. As the chart below highlights, consumers have been subscribing to high speed internet services at the expense of lower speed offerings such as DSL.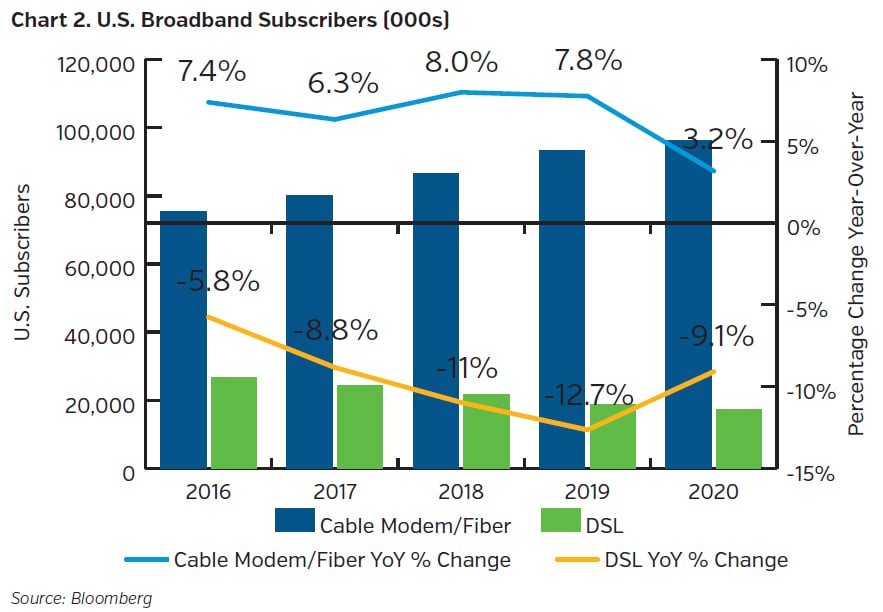 The growth in employees working from home is likely to accelerate the trend toward high speed broadband subscriptions as consumers require faster, more reliable service in order to effectively work from home. This expected growth in broadband subscriptions was prevalent in the first and second quarter of 2020, as net adds across five of the largest broadband providers in the U.S. increased by 36% and 46% relative to fourth quarter net adds, respectively.1 With this in mind, we expect cable providers will not only realize improved subscriber metrics but will also increase their pricing power for their broadband offerings as high speed data becomes a must-have rather than a nice to have. We also expect high-speed data providers will outperform legacy wireline providers as increased demand for data and speed will mitigate the cord cutting phenomenon that cable companies have experienced in recent years.
Consumer Discretionary
As companies have been forced to conduct business away from the office due to the COVID-19 pandemic, many have reduced their discretionary spending and eliminated business travel. While we do believe business travel will ultimately rebound, we caution that there could be a meaningful reduction in the future as many businesses have realized that they can find other ways to connect with customers, colleagues and business partners in a lower cost way, utilizing technology and reducing the need for expensive airline tickets, hotel accommodations and other travel related expenses. Should this lower business travel environment continue, we expect the reduced spending will impact hotels through lower occupancy and conference revenue, as well as airlines through reduced air miles and lower first class and business travel.
Consumer Non-Discretionary
As consumers eliminate their daily commute and spend more time at home, their consumption patterns are likely to shift, particularly across non-discretionary categories such as household and personal care products; and food and beverage. According to a recent Nielsen report for the period ending 8/08/2020, home and personal care products increased 8.1% over the prior four-week period with particular growth in categories such as garbage bags, laundry detergent, liquid hand soap and toilet tissue. However, with consumers spending less time at the office, sales for items such as razors blades and deodorants have declined. Given the size and scale of most investment grade consumer products companies, we expect these new consumption patterns will only have modest financial impacts, particularly given the diversified nature of their product portfolios.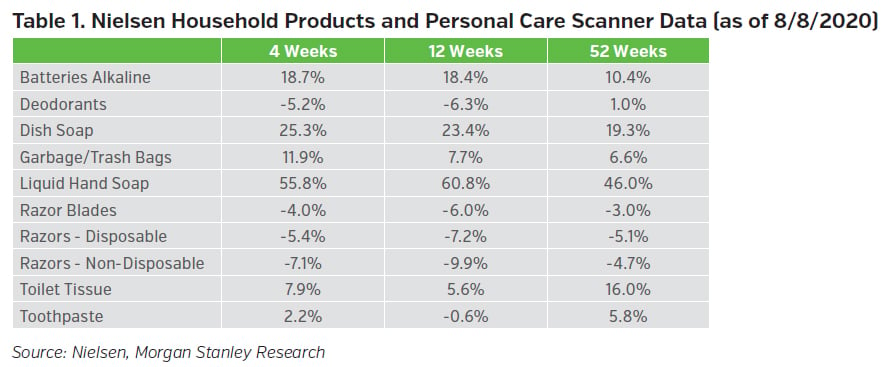 Across food and beverage, the COVID-19 outbreak has created a surge in grocery sales due to the closure of many bars and restaurants as well as the health concerns that many people have regarding food consumption in public spaces. As the pandemic recedes, however, we expect the increased demand for shelf stable products will continue (albeit at a lower level) as people eat more breakfasts and lunches at home and engage in less quick-serve and business-related restaurant visits away from home. This will likely benefit packaged food companies and grocers at the expense of quick-serve restaurants and those that cater largely to business clientele.
Energy
Within the energy sector, oil demand could be impacted by the combined effects of decreased driving and air travel, leading to a lower price environment for the commodity over an extended period. According to Jeff Currie, the global head of commodities research at Goldman Sachs, commuting to work consumes roughly 8 million barrels of oil per day, globally. If the whole world decides to move to working from home one day of the week, oil demand would fall by about 1.6 million barrels per day, or about 1.5%. Global air travel consumes a further 8 million barrels of oil per day and risks realizing a significant decline if a permanent reduction in business travel materializes. Over time, we expect that energy producers will tailor their production to meet demand, limiting the drilling and pumping of crude oil that isn't profitable, leading to higher prices over the longer-term for the finite resource. In the near-term however, we think insurance investors should focus on better capitalized energy companies with diverse, relatively low-cost portfolios of assets. This can be achieved through larger E&P players, integrated firms with exposure to upstream and downstream assets or with well-diversified midstream companies with less direct exposure to commodity prices.
Technology
In a world increasingly focused on data used to improve business outcomes and provide insights to companies, the global shift toward digitization has accelerated. After folding in the effect of employees increasingly working from home, we expect that the trend toward public cloud adoption will increase as companies will require the ability to quickly roll out new applications to their employees and customers, scale up usage on existing applications and provide access to software from any location on multiple devices. This will likely benefit large cloud providers at the expense of legacy enterprise infrastructure providers. In addition, suppliers for storage, computing and networking components should benefit as cloud providers build hyperscale data centers.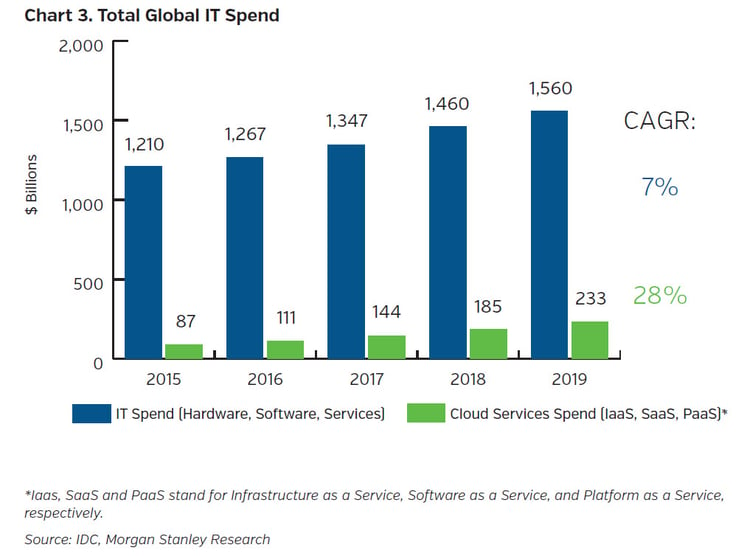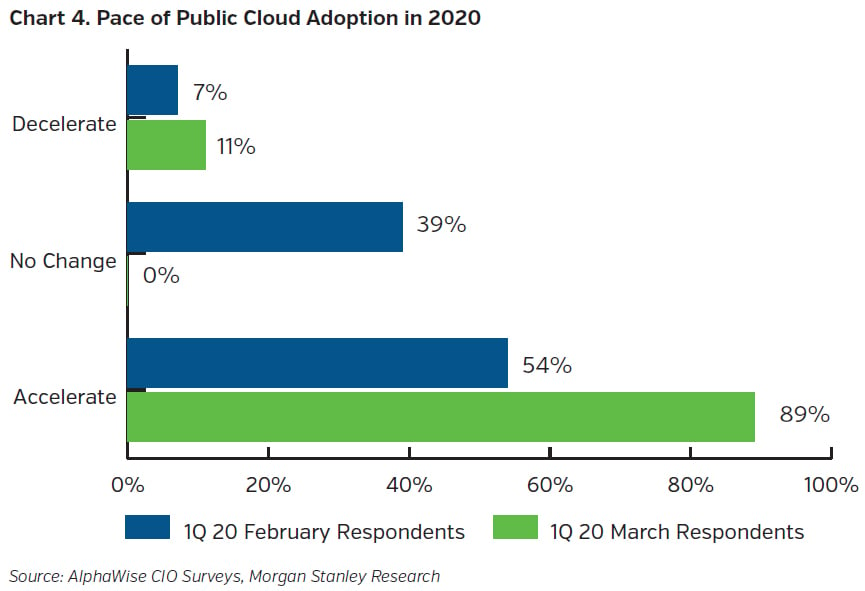 In addition to the move to the public cloud, technology companies are also expected to see significant benefits from the increased adoption of online meeting platforms. The usage of these applications has exploded since the start of the pandemic. Zoom Communications revealed in their first quarter earnings call that they peaked at over 300 million daily meeting participants in April 2020, up from 10 million in December 2019. Companies with online meeting applications such as Microsoft with their Teams application and Cisco with Webex are expected to benefit from the continued usage of virtual meeting applications but the companies that thrive should be those that provide consistent and reliable service with an enjoyable customer experience.
The Future is Unpredictable
While the world may never be exactly the same again, it is too early to accurately quantify the magnitude of the changes across industries given the increased prevalence of working from home. Ultimately, changing consumer psychology will determine the speed and scale of the transformations and it will take some time before those changes become known. The effects on some industries are more apparent than others and insurance company investors will need to remain vigilant to stay in front of this increasingly dynamic global climate. With bond spreads continuing to contract as the world digests a new normal, we don't believe that investors are being compensated for taking excessive risks and should position their portfolios accordingly while remaining cognizant of how each industry is being impacted over both the near-term and the long-term.
Key Takeaways
Automotive
Given the unpredictable path of consumer demand for autos, we recommend investors limit credit risk in the near-term and rotate out of higher risk positions once visibility improves.


Communications
We expect an increase in demand for high speed internet services which should benefit large cable companies such as Comcast, Cox, and Charter Communications.


Consumer Discretionary
As businesses have learned to operate in a lower cost environment, we expect reduced spending for business related travel in the future, lowering occupancy levels and conference revenues for hotels as well as first class and business revenues for airlines.


Consumer Non-Discretionary
Consumption patterns across home and personal care products are likely to shift but this shouldn't create strain for investment grade companies given their diversified portfolios, large scale and strong market share. Grocer sales are also expected to remain elevated as consumers eat more meals at home, benefitting grocery chains and packaged food companies at the expense of quick-serve locations and restaurants that cater to the business crowd.


Energy
With the potential for lower oil prices for an extended period driven by reductions in driving and business air travel, we think insurance company investors should focus on larger E&P players, integrated firms with exposure to upstream and downstream assets, or well-diversified midstream companies with less direct exposure to commodity prices.


Technology
We expect the shift toward public cloud adoption to increase as companies provide their employees with access to software away from the office and on multiple devices which should benefit large cloud providers such as Amazon, Microsoft, and Alphabet at the expense of enterprise IT providers such as IBM, HPE, and Dell.
Endnote
1 Company filings for Comcast Corp, Charter Communications, Altice Corp, Verizon and AT&T.


Any security mentioned in this publication, except Dell, was a current holding in client portfolios as of the date of this report, but may not be held after that date. We do not undertake to update this report to reflect revised current holdings or sales. The fact that a security is held in a client portfolio is not an indication that NEAM is currently recommending that its clients invest in the security. NEAM has never purchased Dell, inherited client positions in Amazon and has never recommended these securities to its clients.