The disruptive force of online retail is by no means a new phenomenon, but the pressure on traditional brick-and-mortar stores has escalated, judging by the 32 national retail bankruptcies 1 and over 6,375 stores closing 2 thus far in 2017. E-Commerce players, led by the industry giant Amazon, have continued to improve the consumer experience through one-click checkouts, mobile wallets, free shipping and easy returns. In doing so, online players have not only enabled, but created a dependency for the ease and convenience of shopping from the comfort of, well, anywhere.
People are simply making more of their retail purchases online. Between 2010 and 2016, Amazon's North American sales quadrupled from $18.7 billion to $80 billion while their share of U.S. e-Commerce grew from 14% to 38% (Chart 1). The number of Amazon Prime subscribers has reached a staggering 80 million or 64% of U.S. households. The recent acquisition of Whole Foods further solidifies the ubiquitous presence of Amazon, a move that sent shock waves through the retail sector 3.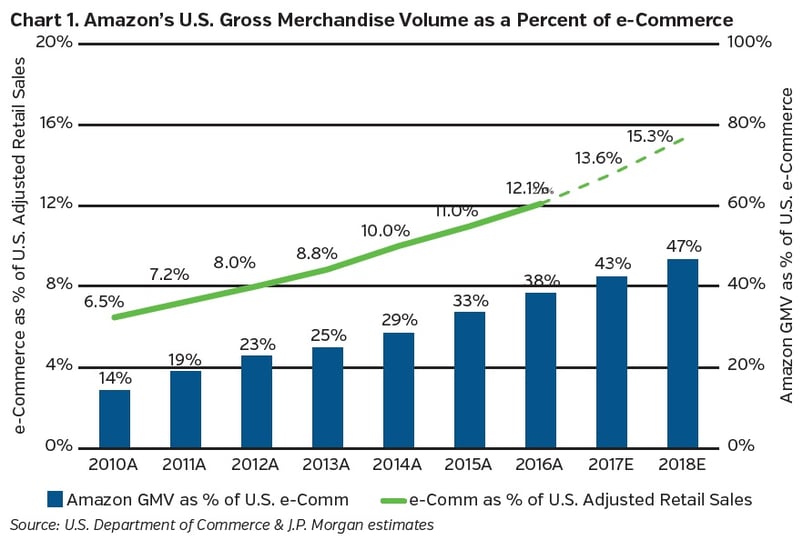 Now old line retailers need to catch up. Through the development of "omni-channel" strategies, improved technology platforms, loyalty programs, buy online/pick up in store, free shipping, and better supply chain management, they are working furiously to connect better with consumers. Store closures will continue to be part of this metamorphosis, as the physical footprint must be "right-sized" to balance a physical and online presence.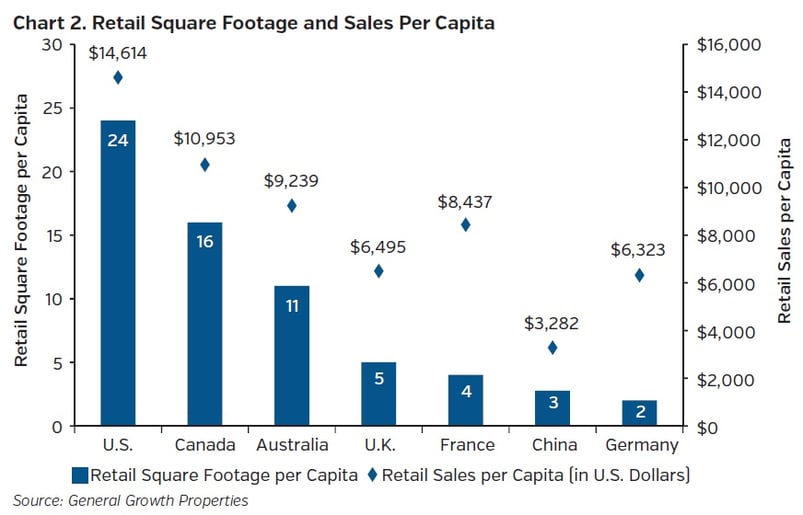 Beyond the retailers, we consider the impact on real estate assets where there are at least two views on retail malls. The first is that the U.S. is woefully "over-malled" with six times the amount of retail space per capita as compared to Europe (Chart 2). One estimate, proffered by Credit Suisse, calls for a 25% reduction in the number of malls. A more sanguine view is that well-managed operators in strong markets will be able to successfully reposition vacant space to alternative and potentially more profitable uses, including fitness and entertainment centers, medical clinics and office space. Under this scenario, the number of failed malls will be closer to 10%. In any case, the handwriting is on the wall as reflected in the price action of the retail-heavy CMBX Series 6 index (Chart 3).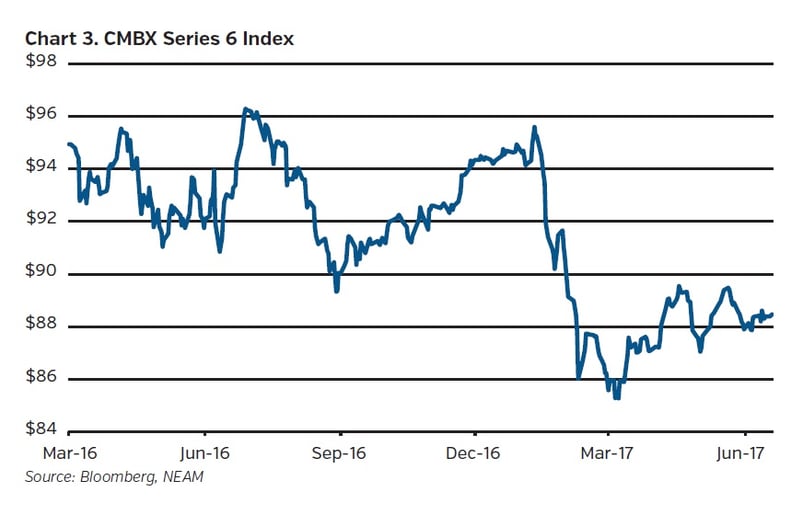 As for the investment implications, we consider the appropriate portfolio actions in the face of this dramatic structural shift.
CORPORATE BONDS–TAKE A PASS ON THE BLUE LIGHT SPECIALS
Focus on highly rated, "best in breed" issuers while avoiding the most competitively challenged parts of the sector

,

such as department stores, specialty retailers and grocers. Companies

that

have taken a holistic approach to managing their business with a focus on cost reduction, value creation and sales productivity

,

combined with well-defined e-Commerce and physical footprint strategies

,

are best suited to compete in this period of changing consumer behavior. Seek companies

that

have the financial flexibility to adapt

to

and benefit

from

changing retail business models.
In our view, examples of higher quality names include Walmart (Aa2/AA), Target (A2/A) and Costco (A1/A+)

,

as well as home improvement names

, e.g.,

Home Depot (A2/A) and Lowes (A3/A-). Avoid more secular

-

challenged issuers

,

such as Kohl's (Baa2/BBB-) and Macy's (Baa3/BBB-)

,

and grocers such as Kroger (Baa1/BBB).
Similar to the corporate bond sector, embrace operators

that

benefit from scale advantages enabling realignment within the new paradigm. Equity holdings largely overlap with th

ose purchased in the

corporate credit sector. Differences may arise, to a small extent, where the equity value more onerously discounts the franchise relative to fixed income pricing and offers a discount to intrinsic value or strategic optionality. Likewise, portfolio holdings may also represent niche companies operating in categories

that

are believed to be more defensible against e-Commerce penetration due to the project, tactile or maintenance nature of the category.

In our estimation,

m

all REIT equities are not currently attractive as the top operators do not offer compelling value relative to the risk.
CMBS–IT'S A GAME OF RETAIL SURVIVOR: OUTWIT OUTPLAY OUTLAST
Retail exposure ranges from 25% to 35% of a typical collateral pool, but the analysis is loan and market specific. Attention is squarely focused on the degree of concentration (where a single mall can reach upwards of 10% of pool exposure), as well as the composition by quality (with a preference for Class "A" malls in primary markets and away from Class "B/C" malls in secondary or tertiary markets).

Conduct

l

oan level underwriting and monitoring to identify idiosyncratic risk with a focus on retail mall productivity, sponsor experience, market size and growth drivers, and competitive set.
Increase the quality bias by purchasing securities in the capital structure with higher credit enhancement attachment levels.
Prune exposures to mall with projected or announced store closings, particularly within the subordinate part of the capital structure.
Within single asset/single borrower space, maintain focus on large-scale, high-end trophy retail assets with a demonstrated performance history and proven sponsorship.
In our view, the secular shift in retailing will take many years to evolve. Department store concepts appear to be behind the curve, but are beginning to respond quite forcefully to the new paradigm. The end game will most certainly encompass some type of hybrid approach as customer preference does not appear to completely eschew physical stores. Online adoption will continue to evolve with technology advancements, together with the behavioral patterns of the millennial generation, whose contribution to total retail sales is projected to rise over the next 20 years. In the near-term the accelerating pace of the fallout appears likely to continue, leading us to a more cautious, defensive stance and an increase in quality bias as the winners and losers in this race have yet to be determined.
Any security mentioned in this publication was a current holding in client portfolios as of the date of this report, but may not be held after that date. We do not undertake to update this report to reflect revised current holdings or sales. The fact that a security is held in a client portfolio is not an indication that NEAM is currently recommending that its clients invest in the security. NEAM inherited client positions in Macy's and Kroger and has never recommended these securities to its clients.
SOURCES:
1 Business Insider, Bloomberg
2 S&P Capital IQ
3 Internet Retailers Conference Exhibition (IRCE)